IRF jointly with Caritas Somalia distributed food and non-food packs to feed over 1000 people in the most vulnerable, hard-to-reach households, but this supply will only be enough to last 20-30 days.
The items consisting of rice, flour, sugar, cooking oil, mosquitos nets, blankets and tarpaulins were delivered to the displaced flood and drought victims in Marka owe Shabelle region of South West State of Somalia.
International Relief Foundation is one of the few INGOs that has been able to access the most hard-to-reach areas on the outskirts of flooded Marka town.
In South West State, an estimated 174,000 people have been affected by localised flash flooding in most towns. The worst affected places are those hosting IDPs in low-lying areas. Meanwhile, riverine flooding in Lower Shabelle has also displaced nearly 6,914 people from Brava to Marka to seek humanitarian assistance.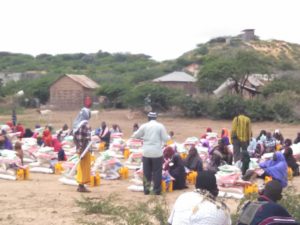 These vulnerable communities are mainly of marginalised and minority clans in the area, which are the worst affected and have not rightfully received the needed attention.
There are problems with sanitation as there are now no toilets or latrines in this area. The health problem will definitely worsen due to the lack of toilets and sanitation facilities. The IDPs use bushes for their toilet needs.
IRF began working in Somalia in 2011, providing emergency relief, education, food distribution, health, Ramadan food parcels and Qurbani meat to poor families in the Banadir, Bay and Lower Shabelle Regions.